Ultra-Grrrip Ultra-Grip 1/2 Finger Wheelchair Gloves (Pair), by RehaDesign
Quality half-finger leather wheelchair glove with a grippy palm material. This durable wheelchair glove is designed for improved traction for an active lifestyle, including sport and wet weather. Ultra-Grrrip Half Finger Wheelchair Gloves are our most popular wheelchair gloves.
Glove Sizes
To determine your glove size, see the photo chart below. Measure your palm as shown in the photo either in inches or centimeters. Then look at the chart below to select your glove size. We carry M, L and XL in all styles.

How to choose the right gloves according your purpose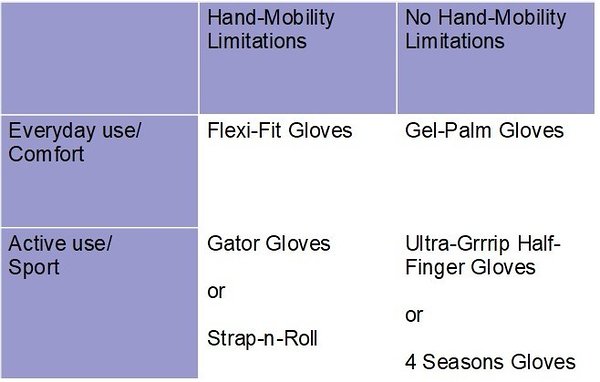 Questions & Answers:
Question: Do these gloves have touch screen capability?
Answer: Unfortunately, they're not touch screen compatible.
(No reviews yet)
Write a Review
RehaDesigns
Ultra-Grip 1/2 Finger Wheelchair Gloves (Pair), by RehaDesign