If you haven't already, please purchase the Quokka Bag Mounting Adaptor in order to attach the bag onto your wheelchair.
Horizontal Quokka Bag (Large)
The first practical mobility bag.
This is the Horizontally mounted Quokka Bag for wheelchairs. Are you tired of keeping your bag on your lap, or worried about the safety of your possessions when your bag hangs off the back of your wheelchair? So was Ingeborg Meurkens, a mother of two in Belgium, who decided that there needed to be another option for on-wheelchair storage. That is why she created Quokka Bags.
These innovative bags lock onto your wheelchair with one simple movement, without making your wheelchair any wider. The Quokka Bags are high quality, convenient, and aesthetically pleasing. They are also suitable for all types of wheelchairs, including power wheelchairs and walkers.
Size: The Horizontal Large Quokka Bag is 8" x 6.75" x 3.5"
Mounting adapter is not included with the bag. Make sure to purchase mounting adapter as well.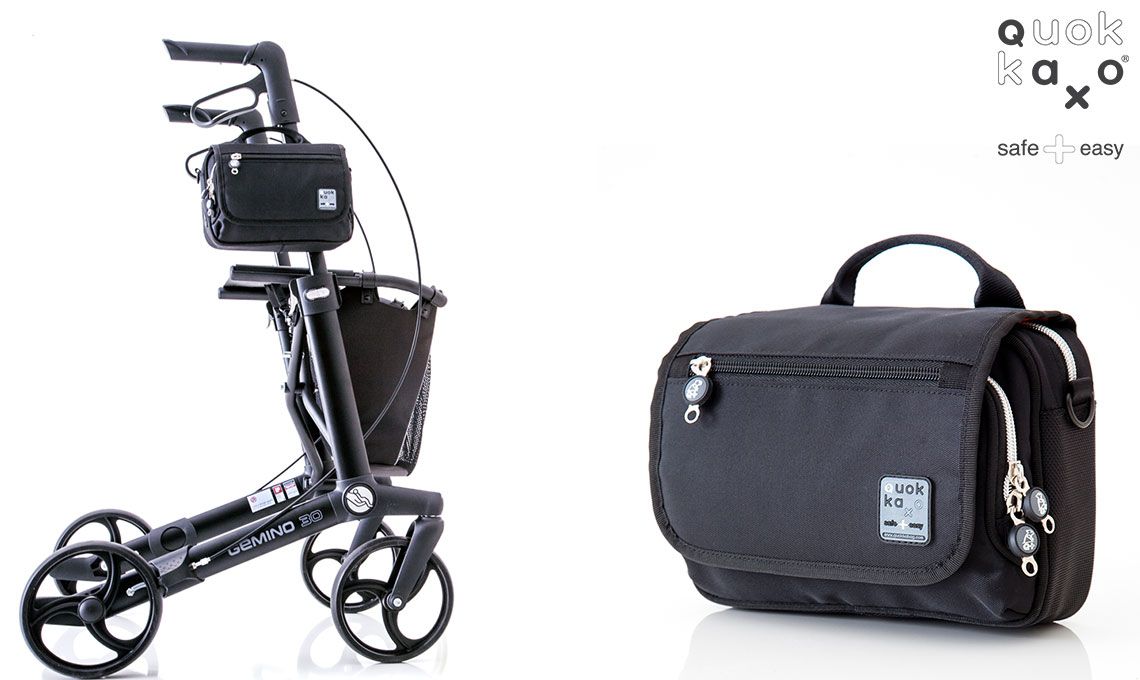 ---
Quokka Bag
Horizontal - Quokka Bag on Folding Chair

I really like this bag. Quality of materials. construction & zippers is excellent. The three pockets each closes securely with a zipper. Size is good for all the things you might ordinarily keep in your pants, and/or shirt, pockets. The bag attaches and detaches easily from the adaptor mounting bracket, and is securely locked on by a simple twist of the locking ring. Finding a place to mount it on my folding chair was a challenge, if I had transfer loops at the font of my arm-rests, that would probably have been the ideal place. As it worked out (on the outside of one of the arm-rests), it makes the chair a little wider and access to the contents while mounted is good though not great. Again it is very easy to detach and access the contents more easily. The mounting Adaptor is very adjustable for mount angle and is quite sturdy though mounting it requires some real patience and a real good pair of pliers (I also used a small rubber mallet to get the ends of the metal mounting strap bent & flattened appropriately) and an extra hand really helps; I definitely suggest testing/trying the mounting position twice (at least) and marking it with tape before bending the metal strap. Good luck, if you find the correct mounting position, you'll really like it.