The Pop N Drop
Turn your manual wheelchair into a power chair in seconds!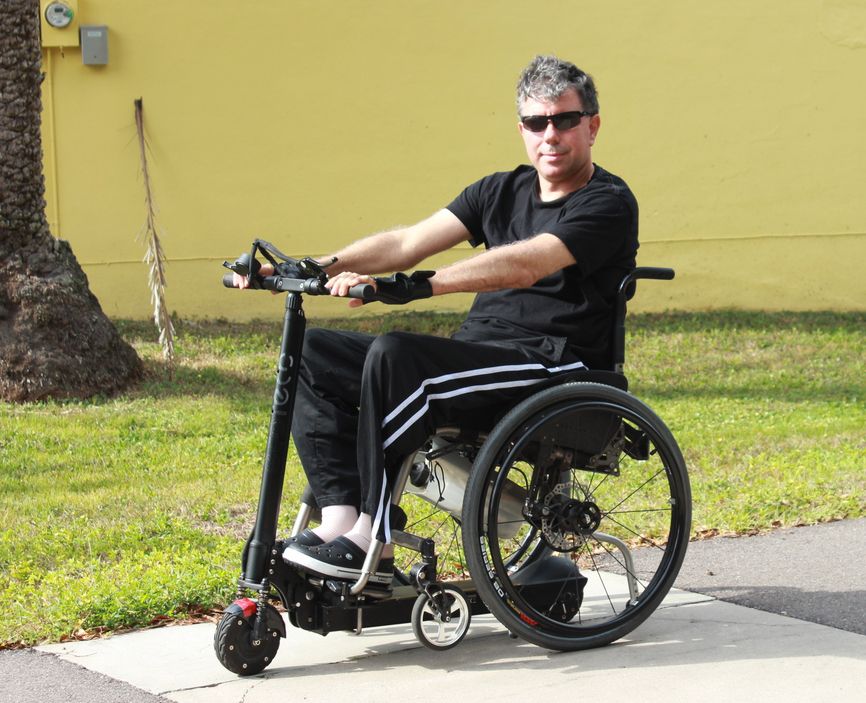 Do you want to go farther or faster in your manual wheelchair? Are you looking for a power assist that doesn't cost as much as a power chair, or even one of the pricey front-attaching power assists? Pop n Drop is the answer!
Pop n Drop is a simple and intelligently-designed device that allows you to 'connect' your wheelchair to a power scooter. It takes about 5 seconds to engage and doesn't require any hand dexterity to lock in (very quad-friendly)! Once engaged, your wheelchair is 'one' with the scooter, letting you enjoy the thrill of a power scooter!
Sore shoulders? Give your shoulders a rest and use the Pop n Drop to go cruising around the park.
Want to go to the supermarket without the hassle of transferring into the car? Ride to the store (and into the store)! Not only is the Pop n Drop extremely user friendly, it adds almost no bulk to your wheelchair, so you can navigate tight spaces and indoors just as you would in your wheelchair.
Wheelchair Compatibility
Pop n Drop does not require any hardware mounted onto the wheelchair, but couples directly to the wheelchair. Who wants extra crap mounted onto their wheelchair anyway? Since wheelchairs come in various sizes , each Pop n Drop is adjustable to your wheelchair size. Pop n Drop is compatible with rigid wheelchair that have rigid footrests. Pop n Drop fits the standard ¾" footrest tubing size. See photo that shows tubing size measurement. TiLite, Quickie and Action all have ¾" footrest tubing. Pop n Drop is not intended to be used with folding wheelchairs or wheelchairs that have swing away foot rests.

Pop N Drop Wheelchair Compatibility

What sets Pop n Drop apart
There are many mobility devices to assist the manual wheelchair user, however, the combination of the Pop n Drop with the EcoReco scooter outperforms all the others in:
1) Speed (Pop n Drop 20mph!)
2) Range on one charge (20 miles)
3) Ease of attaching (10 seconds by a quad)
4) Low Cost (Less than $1k, where most power assists start at around $2.5k)
5) Can be used as a scooter by able body riders.
The only recommended scooter for the Pop n Drop is the EcoReco L5, a lithium battery electric powered folding scooter. It's a high quality product with incredible performance features, like 20 miles on one charge and a top speed of over 20 miles per hour!
The best part is, once you detach the scooter from your chair, it can be used as a stand-up scooter...the problem will be getting it back from your kids or grandkids!
EcoReco L5 Electric Powered Folding Scooter

L5 Scooter Features

Green and energy-efficient system

Zero-emissions, silent motor
2,000+ MPGe, 500+ Miles on $1
Energy Recovery Braking system (E.R.B.)

High-performance integration

Top speed configurable at 20, 12, 7 mph
Range of 14-28 miles per charge
Excellent torque for up to 20-25% incline
Heavy-duty zero-drag hub motor with a 280-pound load capacity

Compact and lightweight

Fits in car trunks and under chairs
Ideal for use in public transportation, RVs, and watercraft

Consistent Range and Fast Charging

High-density Li-ion battery for best power/weight ratio
Consistent range under most temperature conditions




SPECIFICATIONS (L5)

Energy efficiency:

2,000 MPGe*/ 500 miles on $1 / Energy Recovery Braking

Agile & comfortable:

Top speed 22 MPH*

Sturdy and stylish:

Aggressive front & rear suspension

Rangy & efficient:

14 to 28 miles per charge* for L5/L5+

Heavy duty:

38 lbs. / Max 280 lb load

Comfortable & Safe Ride:

Rear-wheel drive and brake

Fast-charge time:

2 hrs to 60%

Motor output:

700W peak

LED back-lit dashboard

High-performance full suspension

Safe-start, smart brake and omni-directional taillight

All-purpose gadget mount for your phone, Go-Pro, camera and all accessories

Pop N Drop Wheelchair Installation Instructions

Please note that an ECORECO L5 scooter is necessary in order to use the Pop N Drop
After recently purchasing the pop and drop and a brand new eco Rico s3 scooter with built in tail/brake light. I am very happy with my purchase. The only thing that I find little frustrating and this is in no way any fault of the pop and drop or the ecorecoscooter I find that I need to adjust my foot plate on my wheelchair just a little bit because it does not fit quite perfectly on the pop and drop other than that this is an awesome product and I have already put on 23 miles