e-motion M15 (New Generation) Power Assist Wheels - E0986
e-motion – the push rim activated add-on that takes the strain off
The e-motion power assist combines active mobility with therapeutic benefit. Even wheelchair drivers with limited arm and body strength can gain back their mobility with e-motion. The electric motors that are integrated in the wheel hubs effectively support the wheelchair user, who puts in much less effort to travel greater distances or slopes.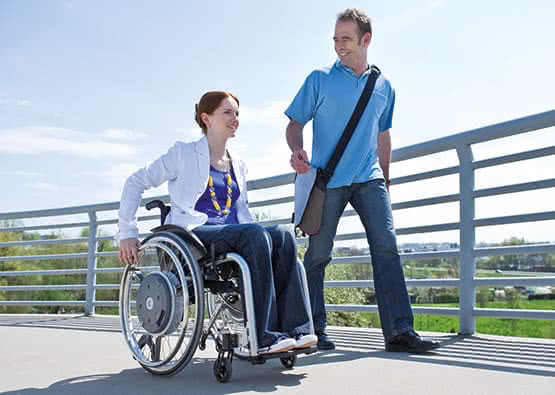 Easier to push easier in everyday life
Mastering everyday life often requires considerably more physical effort for wheelchair drivers. This effort sometimes becomes almost unsustainable with progressing age or illness. The electric e-motion add-on drive is the ideal solution to master this challenge: Every push on the push rim is registered by a highly sensitive sensor and translated into the perfect amount of electric power assistance. As a result pushing a manual wheelchair becomes much, much easier.
The e-motion is the only Power Assist on the market powered by long lasting Lithium Ion Technology - 3 x more range!
New Ergonomic Control System (ECS) that customizes the e-motion M15 to the users needs!
Rollback delay! Prevents the wheelchair from rolling back while climbing inclines or ramps
Two power assistance levels
Battery capacity indicator
10 programmable parameters
Self-diagnosis for easy trouble shooting
e-motion M15 fits most manual wheelchairs new or existing on the market.

It's so easy:
The e-motion power-assisted wheel is mounted on the wheelchair in place of the manual wheels. The batteries are integrated in the wheel hub and can be removed from a sitting position. A sensor registers the propelling movement and activates the electrical motors.
Easy to dismantle and ideal for transportation.
*These wheels are custom made to fit your wheelchair. Price subject to change. For an accurate price quote please contact Living Spinal at (619) 810-0010 or Info@LivingSpinal.com.
E-Motion Owner's Manual
E-Motion Brochure

E-Motion Owner's Manual 2

Fill out our form to get a verification of benefits within 24 hours -

Insurance Verification Form .
Long-lasting and Highly Reliable Power

I moved to the e-motion after the iGlide was discontinued ( now produced as Tailwind https://livingspinal.com/power-assists/tailwind-power-assist-wheelchair/ ).

I've had my e-motions over FIVE YEARS and they still hold up.

The bad: The rims are coated, but know they are customized to affix to the springs in the wheel. About those springs, under day-to-day use they hold up well, but they break when manhandled like we typically do with our chairs. Replacing the springs, well pretty much any maintenance, is fairly technical and complex. Make sure you have someone who can do the maintenance.

The ugly: These jokers are HEAVY! If you are looking at them as a pop-on/off alternative to go between manual and powered, know that the mounts will add some weight to your chair. Oh, the mounts also mean you'll say adios to and camber. My minor annoyance is the indicator lights. They are REALLY BRIGHT and I've had too many folks ask about them, so i fixed it with electric tape. The electronics are complex and when mechanisms go glitchy troubleshooting is sometimes frustrating.

The good: The e-motion is a remarkable step forward in independence. I've seen a woman with extremely limited mobility propel her chair up a ramp with her fingertips. I prefer to do some work, but not be slowed down by hills or carpet. I can fly from sidewalk to grass with my dog on leash with remarkable ease. ( yes, i wrote remarkable again ). The wheels are smart enough to keep me from rolling uncontrollably down hill. With the dials ( you not really need to pay for the obnoxiously large controller but may find it more convenient ) I can go from my house to the city streets with a few clicks. Finally, we can switch out to my manual wheels within five minutes.

If you're looking for more independence but do not want to be constrained by the size of a power chair these are a wonderful option. For the stronger customer who just needs some help and tosses your chair around, consider the Twion or SmartDrive instead.