Schwalbe Marathon Plus - EVOLUTION
These tires perform!
The Schwalbe Marathon Plus high performance tire is the premier tire in Schwalbe's Marathon Plus lineup. Top of the line rubber blend is the perfect mixture of road-stickiness and durability. The Evolution tread pattern has shown provide the industry's best on and off road mix, allowing extremely minimal noise and drag on smooth surfaces while still providing great traction for gravel, grass, dirt, and other terrain.
Go further with the RIGHT pair of tires.
BLACK, NON-MARKING. PSI 85-140, TREAD PATTERN: EVO. SOLD AS EACH.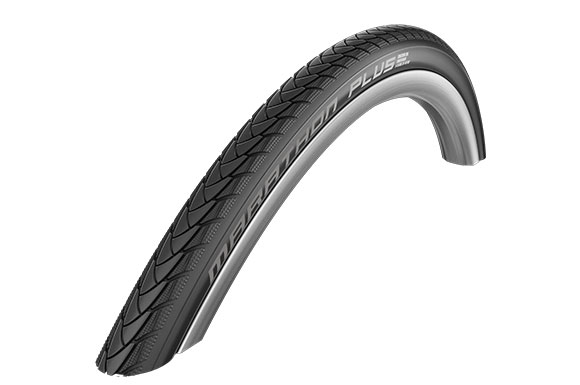 Features:
T400 24x1" MARATHON PLUS EVOLUTION (25-540) SCHWALBE PART # : 10283440

T401 25X1" MARATHON PLUS EVOLUTION (25-559) SCHWALBE PART # : 10231440

T402 26X1" MARATHON PLUS EVOLUTION (25-590) SCHWALBE PART # : 10284440

T404 24x1-3/8" MARATHON PLUS EVOLUTION (37-540) SCHWALBE PART # : 10281440
I've been using this tire on my every day chair ever since I discovered it. Yes, it is a little pricy. In my opinion, it's worth it. If only for the fact it out lasts any other tire ever used on my daily driver. It's a really high pressure, hard as a rock, easy rolling, consistent reliable ride. Enough adjectives? Simply the best.

these tires are nice because they are all black/dark grey and they don't mark. looks good on black chair