Use Catheters? We do!
Schedule your catheter shipments with us and we will get you the best deductible available – we promise.

---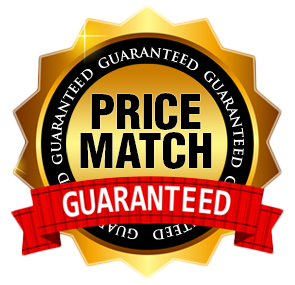 Subscribe on iTunes and Google Play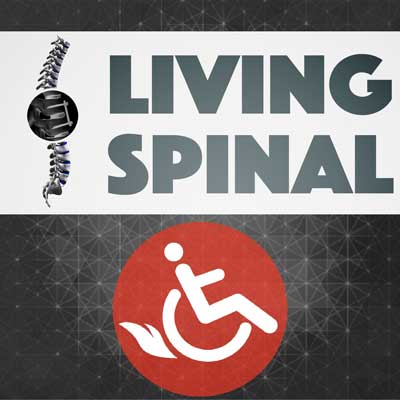 Frog Legs - PHASE-TWO Wheelchair Caster forks ( pair)
through PayPal Credit.
about this product.
Product Description
FROG-LEGS PHASE-TWO -Sold as pair
About Company:
Founded in 1997 by Mark Chelgren, the company started up after a chance encounter with a quadriplegic rugby team. Instead of fixed forks that require the wheel to move up and over obstructions — bouncing the rider in the process, Chelgren designed his forks allowing them to move smoothly over impediments in an arc path, functioning much like airplane landing gear.
In 2016, Chelgren felt he and Frog Legs could produce a better product by switching from machined aluminum to an even lighter alternative. That effort led them to carbon fiber composites. The second-generation caster wheels make use of two PlastiComp long carbon fiber-reinforced composite materials. A long carbon fiber-reinforced nylon 6/6 composite is used in the wheel forks, and a long carbon fiber-reinforced thermoplastic polyurethane makes up the wheel hub.
Leading the evolution of suspension - Unique long carbon fiber material.

Material Strength Comparison -- Tinsile strength of Phase Two Carbon Fiber twice that of T60/61 Aluminum, Validated through Finite Element Analysis Validation

Optimal Fiber Orientation -- Frog Legs proprietary design & custom material designed using independent mold flow analysis

Progressive Spring Rate -- The wedge becomes stiffer as the fork compresses keeping it from bottoming out while remaining sensitive to impact.

Wedge polymer optimizes absorption zone for improved bump response. Supports user weight range of 50 to 250 lbs.
Product Description:
The long carbon fiber-reinforced nylon composite used in the new forks helps make them 33% lighter than its aluminum predecessor and twice the tensile strength.
They are proven to be ultra strong, and carbon composite material has softer impact on walls and other surfaces. These forks is the new wedge-shaped polymer bushing. The new design actually makes the suspension have a progressive rate of shock absorption. On the small, quick ripples, such as those lovely yellow sidewalk pimples they put at the curb cutouts. Wedge polymer optimizes absorption zone for improved bump response.
The new shape and design is that they will support all weights from 50 to 250 lbs. The Phase-Two fork from Frog Legs, Inc. has now revolutionized the wheelchair fork. It's stronger, lighter, better, faster, and even less expensive.
How to check Caster Barrel and Wheel size: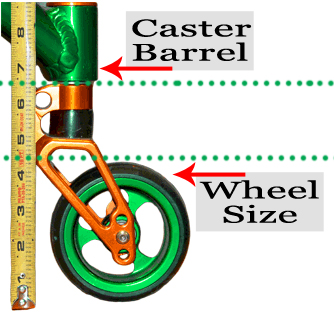 Make: Locate the appropriate make and model of your chair.
Weight: Choose your weight range to achieve the maximum rider experience.
Caster barrel to floor: Proper caster barrel to floor height impacts the tilt of the chair.
Frog Legs available in different colors:
Black, Blue, Purple, Orange, Red
NOTE: Sold as pair
---
Living Spinal Can Bill Your Insurance
Fill out our form to get a verification of benefits within 24 hours -
Insurance Verification Form.
---
How to use PayPal Credit with Living Spinal
Step 1)
Click on the banner above and read ALL of the
Offer Details
from PayPal's website.
Step 2)
Create a PayPal account if you don't have one. If you decide that you can afford PayPal's financing option, then apply for the loan.
This is between you and PayPal.
Step 3)
Once the money is in your PayPal account, which shouldn't take long, click on
Cart
on Living Spinal's website, then
Proceed to Checkout
.
Step 4)
Fill in your information on our checkout page, then choose PayPal as your payment option.
Step 5)
A PayPal popup window will allow you to login. Once you are logged in,
choose to pay with you PayPal Credit balance
.
Step 6)
Be sure to make your payments to avoid any unnecessary fees.
---
Office Toll Free Phone: (855)-287-4968
LS Wheelchair Chop Shop: (619) 810-0010
Tenemos representantes de servicio al cliente que habla espanol para su conveniencia.
Find Similar Products by Category