Super Grip Thumb Piece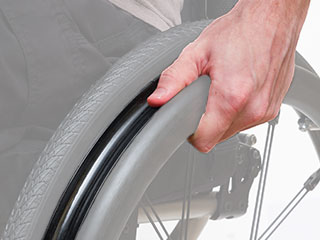 Maximum Ergonomic Grip
It is the combination of the contoured thumb piece and the oval that gives our handrims the unique ability to provide a truly ergonomic grip on the handrim, and a place to rest the thumb.
Grippy Surface
The Super Grip thumb piece uses an advanced copolymer coating that provides a higher friction surface (it is similar to a vinyl coating) ideal for those who want a grippier propulsion surface for the thumb.
Closes the Gap
The thumb piece closes the gap between your rim and wheel (so that your fingers do not get caught).
Handrim must be mounted in the long tab position.


1 Each per order. If you want 2, please put 2 in the quantity field.
(No reviews yet)
Write a Review
Out-Front
Out-Front Super Grip Thumb Piece