Introducing the NaviGO, by Yamaha
Uniquely designed to open up a world of extraordinary experiences.
The NAVIGO is intended for use with manual wheelchair frames as a lightweight alternative to the bulk and lifestyle changes required with a typical power wheelchair or scooter. The NAVIGO adapts to each rider's unique manual wheelchair frame, allowing for optimum seating and positioning. The system also has fast release wheels and is easy to transport.
The NAVISERIES product line is designed to meet the mobility needs of a wide range of wheelchair riders, providing them with greater independence, confidence, and options to live life on their terms. NAVIGO is a portable joystick power device that can be added to manual wheelchair frames.
This wheelchair includes the left and right drive components, a joystick-equipped controller, a battery, a battery bag, a battery charger, and an optional assistant controller. These parts have already been attached to the wheelchair frame.
Basic Features of NaviGO Wheelchair
Transportability

Easily transportable power option for rider, family, or caregiver
Opens up transportation options without costly vehicle modifications
Can avoid expensive home modifications
Easy charging from household outlets

Yamaha Performance

Lightweight alternative to a traditional power chair with equivalent speed and range
Travel longer and farther with a battery range that averages over 9 miles for nickel batteries and 19 miles for lithium
Can enable riders to travel more distance with more comfort and less effort
Downhill speed control

Ease of use for a wide range of riders

Suitable for many client types as a transition between manual and power
Excellent potential for pediatric or adolescent applications
Can easily switch between manual and powered propulsion - no resistance if being pushed by a caregiver, thanks to easy-to-use clutch levers
Optional assistance operation

Innovative Design

Ergonomic controller with simple functions and buttons
Right or left mounting, quick release option, simple hardware
Programmable speed, turning, deceleration, damping through joystick only
Dynamic joy stick with USB Charge outlet, compact controller, speed selection indicator, and battery level indicator
NaviGO Smart Control Technology
The NAVIGO joystick power system is an intelligent mobility solution that can be added to a manual wheelchair frame. The transportability of the NAVIGO gives the rider additional options for full or part time powered mobility.
| | | | |
| --- | --- | --- | --- |
| | MAXIMUM SPEED | | RANGE OF MOTION |
| | DECELERATION SPEED | | JOYSTICK INPUT DIRECTION |

NaviGO Wheelchair Accessories

Yamaha's NaviGO Wheelchair system
NAVIGO Smart Tune
NAVIGO Smart Tune software can help figure out the best joystick operation range for you.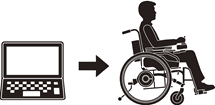 An example of using Smart Tune software is in the chart above: The Range of Motion to reach maximum speed is being adjusted to the rider's ability.The green background shows the speed changing area, the red line shows maximum speed, and the blue line is the rider's path after measuring; now the rider can easily reach maximum speed regardless of their ability level.
Technical Specifications
Total System Weight (excluding Battery Charger)

NiMH ("Nickel")
Li-ion ("Lithium")

44 lb (20 kg) 24" wheel with NI
46 lb (21 kg) 24" wheel with LI
39 lb (18 kg) 16" wheel with NI
41 lb (19 kg) 16" wheel with LI

Maximum Load Capacity
275 lb (125 kg) 24" wheel size
(including rider, luggage, and frame weight)

220 lb (100 kg) 16" wheel size

Steering System

Joystick Steering

Tire (Pneumatic)
Size
Pressure

16": 47-305 (16x1 6/8)
24": 37-540 (24x1 3/8)
50 psi for 16" wheel (345 kPa)
65 psi for 24" wheel (450 kPa)

Hand Rim Type (24" wheel size only)

Stainless Steel (no hand rim on 16" wheel)

Software Control System

Smart Tune software by Yamaha Motor Co., Ltd.

Drive Motor (one AC servo motorin each wheel)

24V 120W x 2 (30minutes rated output)

Assisted Speed Range

1.7 – 6.0 km/h (Software Controlled)

Hill-Climbing Ability

6° (Approx. 10% slope)

Battery
Weight
Capacity

Nickel: 6.6 lb (2.9kg)
Lithium: 8.8 lb (4kg)

Nickel: 1-24 V, 6.7 Ah (5 hr rate)
Lithium: 1-25 V, 11.8 Ah) (5 hr rate)

Battery Charger
Time for normal charging Weight
Method (both Nickel & Lithium)
NIckel: ~ 2.5–3 hr; Lithium: ~4.5 hr3.37 lb (1.53kg)
Automatic microprocessor controlled.
Combined charger can charge both NI & LI battery
Assisted Travel Range ("average conditions")

Nickel: 10 mi (16km)
Lithium: 18.7 mi (30km)

Component weights

Controller 2lb (1 kg); Assistant controller 1lb (0.5
kg); Wheels (pair) 32 lb (14 kg)
Downloads: