Use Catheters? We do!
Schedule your catheter shipments with us and we will get you the best deductible available – we promise.

---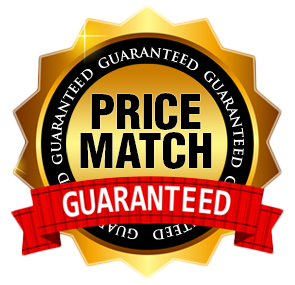 Subscribe on iTunes and Google Play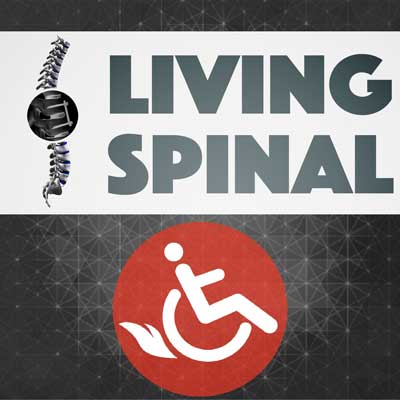 Pop n Drop
through PayPal Credit.
about this product.
Product Description
The Pop N Drop
Turn your manual wheelchair into a power chair in seconds!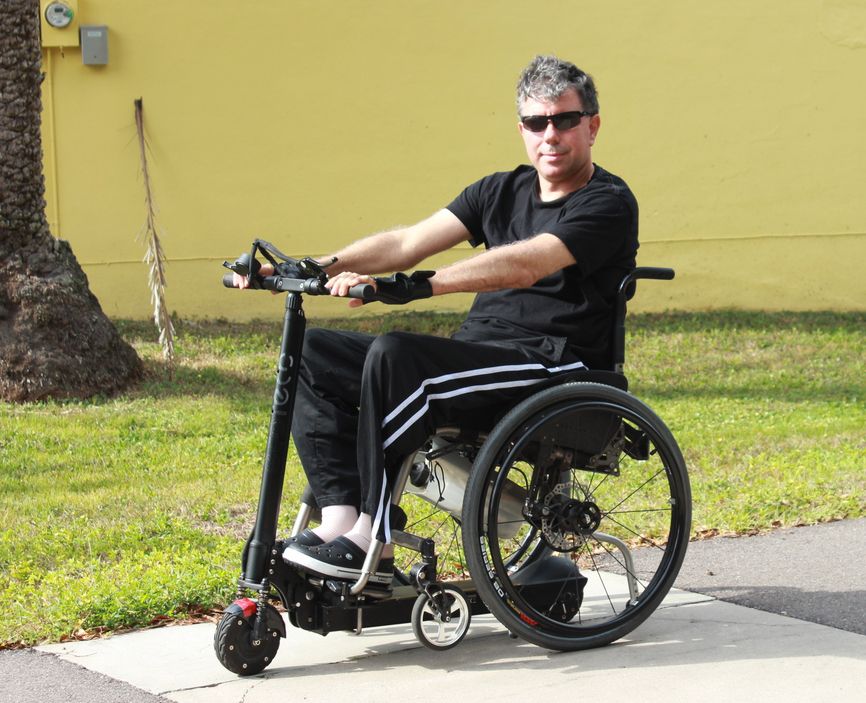 Do you want to go farther or faster in your manual wheelchair? Are you looking for a power assist that doesn't cost as much as a power chair, or even one of the pricey front-attaching power assists? Pop n Drop is the answer!
Pop n Drop is a simple and intelligently-designed device that allows you to 'connect' your wheelchair to a power scooter. It takes about 5 seconds to engage and doesn't require any hand dexterity to lock in (very quad-friendly)! Once engaged, your wheelchair is 'one' with the scooter, letting you enjoy the thrill of a power scooter!
Sore shoulders? Give your shoulders a rest and use the Pop n Drop to go cruising around the park.
Want to go to the supermarket without the hassle of transferring into the car? Ride to the store (and into the store)! Not only is the Pop n Drop extremely user friendly, it adds almost no bulk to your wheelchair, so you can navigate tight spaces and indoors just as you would in your wheelchair.
Wheelchair Compatibility
Pop n Drop does not require any hardware mounted onto the wheelchair, but couples directly to the wheelchair. Who wants extra crap mounted onto their wheelchair anyway? Since wheelchairs come in various sizes , each Pop n Drop is adjustable to your wheelchair size. Pop n Drop is compatible with rigid wheelchair that have rigid footrests. Pop n Drop fits the standard ¾" footrest tubing size. See photo that shows tubing size measurement. TiLite, Quickie and Action all have ¾" footrest tubing. Pop n Drop is not intended to be used with folding wheelchairs or wheelchairs that have swing away foot rests.

Pop N Drop Wheelchair Compatibility

What sets Pop n Drop apart
There are many mobility devices to assist the manual wheelchair user, however, the combination of the Pop n Drop with the EcoReco scooter outperforms all the others in:
1) Speed (Pop n Drop 20mph!)
2) Range on one charge (20 miles)
3) Ease of attaching (10 seconds by a quad)
4) Low Cost (Less than $1k, where most power assists start at around $2.5k)
5) Can be used as a scooter by able body riders.
You have the option of purchasing a EcoReco power scooter with the Pop n Drop.
The only recommended scooter for the Pop n Drop is the EcoReco S5, a lithium battery powered scooter. It's a high quality product with incredible performance features, like 20 miles on one charge and a top speed of over 20 miles per hour!
The best part is, once you detach the scooter from your chair, it can be used as a stand-up scooter...the problem will be getting it back from your kids or grandkids!
EcoReco S5 -

S5 is the best all-around scooter offering the perfect balance among performance, weight, and features for your everyday usage.

Universal mount to provide riders the opportunity to mount a digital camera, GoPro, or other mobile accessories.
Each scooter comes with one external charger. Univeral mount hole is integrated on the top, GoPro and adaptors are not included.
It's pre-configured to 12 MPH top speed, you can configure to 7 MPH or 20 MPH if needed.




SPECIFICATIONS (S5)




Battery: LiFePO4 (36 V, 8 Ah)
Motor type: Brushlesshub motor
Motor power: 600 W peak
Transmission: Direct drive
Energy efficiency: 2,000 MPGe*/ 500 miles on $1 / Energy Recovery System
Speed: 20 MPH*
Range: up to 20 miles*
Weight: 27 lbs
Charge time: 2.5 hrs to 85% and 4.5 hrs to full
Battery cycle life: Typically 2000+ cycles
Frame and body: 6061-T6 Aircraft Aluminium
Max load: 250Lbs
Upright: 38 × 22 × 46 in (height adjustable)
Folded: 36.6 × 5.5 × 11.8 in

Pop N Drop Wheelchair Installation Instructions

Please note that an ECORECO S5 scooter is necessary in order to use the Pop N Drop
---
Product Reviews
Average rating of 5 out of 5 from 1 reviews.
Write Review
My thoughts 5 out of 5

Posted by Ty Davis on Sep 5th 2016

After recently purchasing the pop and drop and a brand new eco Rico s3 scooter with built in tail/brake light. I am very happy with my purchase. The only thing that I find little frustrating and this is in no way any fault of the pop and drop or the ecorecoscooter I find that I need to adjust my foot plate on my wheelchair just a little bit because it does not fit quite perfectly on the pop and drop other than that this is an awesome product and I have already put on 23 miles
Living Spinal Can Bill Your Insurance
Fill out our form to get a verification of benefits within 24 hours -
Insurance Verification Form.
---
How to use PayPal Credit with Living Spinal
Step 1)
Click on the banner above and read ALL of the
Offer Details
from PayPal's website.
Step 2)
Create a PayPal account if you don't have one. If you decide that you can afford PayPal's financing option, then apply for the loan.
This is between you and PayPal.
Step 3)
Once the money is in your PayPal account, which shouldn't take long, click on
Cart
on Living Spinal's website, then
Proceed to Checkout
.
Step 4)
Fill in your information on our checkout page, then choose PayPal as your payment option.
Step 5)
A PayPal popup window will allow you to login. Once you are logged in,
choose to pay with you PayPal Credit balance
.
Step 6)
Be sure to make your payments to avoid any unnecessary fees.
---
Office Toll Free Phone: (855)-287-4968
LS Wheelchair Chop Shop: (619) 810-0010
Tenemos representantes de servicio al cliente que habla espanol para su conveniencia.
Find Similar Products by Category