Liquidation Sale: ROHO QUADTRO SELECT High Profile Cushion
Warehouse Sale - This product and may have some light blemishes, but it is perfectly functional. Warehouse sale products are non-returnable, and customer assumes risk and responsibility for fitment, compatibility, and their own ability to use the product.
Select Series cushions set the standard for performance in wheelchair seating.
ISOFLO® Memory Control can be customized with the push of a button to provides shape-fitting potential while you're seated. You need not have to sacrifice maximum skin/soft tissue protection to get stability, positioning or convenience.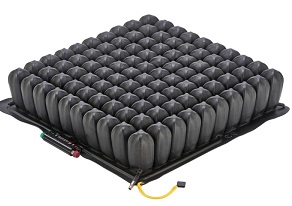 Adjustable:
The QUADTRO SELECT HIGH PROFILE is adjustable to your shape and weight and will adjust to changes in your position over time.

Lightweight:
Easy to handle and carry, at just 3.8 lbs/1.7 kg (QS99C). Varies by size.

Washable:
Cushion can be easily cleaned with soap and water.

Repairable:
The flame-resistant, black neoprene (not made with natural rubber latex) cushion can be patched or repaired to extend its use.

Based on clinical, scientific or engineering evidence, this product may be suitable for individuals who:

have a history of skin/soft tissue breakdown and/or any category/stage pressure injury (including deep tissue injury), skin grafts, and/or myocutaneous flap surgery
currently have skin/soft tissue breakdown and/or any category/stage pressure injury (including deep tissue injury)
are at risk for skin/soft tissue breakdown
have normal or impaired sensation
require accommodation of pelvic asymmetry, up to approximately 3 in. / 7.5 cm
require increased stability – require correction of pelvic asymmetry (medial lateral and/or anterior posterior)
require different positioning of the left and right femur
Protection: ROHO is the worldwide leader of seating solutions to prevent and treat pressure injuries including deep tissue injury while providing skin and soft tissue protection.
Clinical Evidence: ROHO has been in over 90 scientific and clinical studies to reinforce and verify that a ROHO DRY FLOATATION® cushion heals, treats and prevents pressure injuries including deep tissue injury.
Adjustability: ROHO DRY FLOATATION cushions, unlike foam products, provide the ability to constantly adjust and conform with an individual's body, now, and as he or she changes throughout the months and years.
Adaptability: ROHO DRY FLOATATION cushions support the shifts and movements that individuals make throughout each day.
DO NOT sit on an improperly inflated cushion. Under-inflation and overinflation of the cushion sections reduce or eliminate the cushion's benefits and could increase risk to the skin and other
soft tissue. The cushion is most effective when there is 1/2 inch (1.5 cm) to 1 inch (2.5 cm) of air between the user's bottom and the seating surface.

There's nothing more personal than your comfort. That's why we have a range of sizes and products to fit every chair and every person. Plus we have custom options, too. It's also why we meticulously test and inspect your cushion before it leaves our factory.

Made for you by:

Teresa Hemsath
Incoming QA Inspector

"His life before ROHO was miserable…trying every cushion to stop his pressure areas and then ROHO stepped in and took care of Abel and listened to his needs. Because of them, Abel is sitting comfortably everyday and doing well."

Abel Rose
Specification:
Medicare code*
E2624 and E2625
SKU
QSxxxxC
Includes
QUADTRO SELECT HIGH PROFILE Cushion, two-way stretch cover, hand inflation pump, repair kit, and operating instructions. Optional Heavy Duty cover available.
Construction
flame-resistant, black neoprene (not made with natural rubber latex)
Height
4.25 in. / 10.25 cm without load
Widths
12.75 in. / 32.5 cm to 24.25 in / 62.5 cm
Weight
Varies by size, approximately 3.5 lbs. / 1.6 kg (based on size QS99C)
Weight Limit
There is no weight limit, yet the cushion must be properly sized to the individual.
Warranty
Cushion: 36-Month Limited Warranty, Cover: 6-Month Limited Warranty
Accessories
Accessories that can be used with the QUADTRO SELECT HIGH PROFILE Cushion:
IFC Clip, Contour Base, Planar Solid Seat Insert and Cushion Retainer.