AddSeat
AddSeat Can Take You There!
Developed in Sweden by the innovative company, AddMovement, the AddSeat is one of the latest and greatest self-balancing mobility seat kits.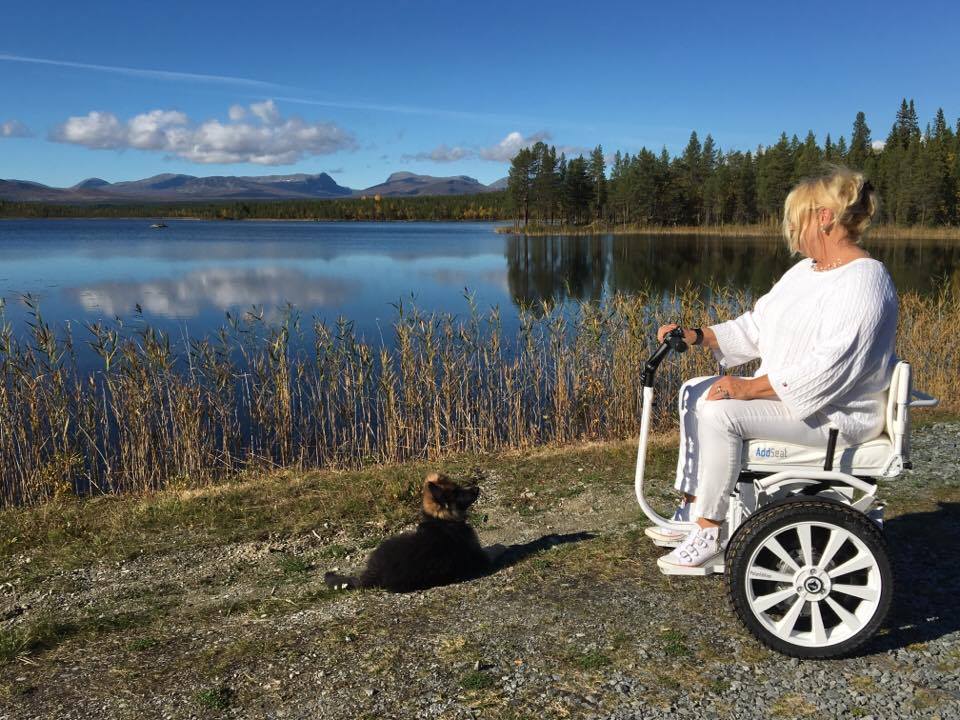 The perfect vehicle for a wide range of abilitylevels, the AddSeat is not only easy to handle, it is also top-notch when it comes to safety. One of its main safety features is the "support legs." These can be safely deployed to provide stability when getting on and off the Segway. By connecting to the inner workings of the Segway, the support legs automatically turn off the Segway when deployed. There is also a parking feature that provides additional stability when transferring on and off the vehicle.
What sets the AddSeat apart from many other seat kits is the seat's glide function. You can quickly start or stop the AddSeat by moving your center of gravity forward or backward. Not only is this a comfortable and intuitive feature, it is also very safe, because you do not need a lot of mobility to start or stop.
See the AddSeat in Motion
---
Specifications of AddSeat (for Segway i2, x2, i2 SE or x2 SE)
Maximum speed: Max. 20 km/h (13mph). Can be limited depending on applicable law
Range: Model i2 (40-50 miles) and model x2 (20-25 miles) on a single charge (depending on the driver's weight, surface, driving style, tire pressure and wind). This extended range is due to the new Segway battery which come with all of our new units after 12-1-2019.
Turning radius: 0 m.
Parking construction: 4 legs for safe parking.
Machine Width: model i2 63 cm (25 in) and model x2 83 cm (33 in), even with friction tires on.
Height: with seat back felt down: AddSeat 2:0 with height adjustable seat and excl. handle = 65 cm (25 in). AddSeat 3:0 with fixed seat incl. handle = 65-74 cm (25 in- 29 in).
Seat height: 60-75 cm from the ground with the height adjustable seat.
Seat widths: 39 cm (15 in) or 42 cm (16.5 in).
Seat with glide function for faster response.
Removable steering rod
Back Support: adjustable and can be made in different heights.
Seat Cushion: detachable (customary cushions can be used).
Foot Support: Adjustable.
Maximum Payload: 45-100 kg (99lbs - 220lbs). We have many riders up to 300 lbs. 220 lbs is a manufactures recommendation.
Battery: 2 lithium-ions batteries, integrated charger for charging at electric outlet 110 – 230 V, charging time ca. 8 hours from empty state. Properly charged and maintained batteries provide greater range. Old, cold, heavily used, or poorly maintained batteries provide less range.
Highest safety due to redundant Components, intelligent control.
Self-balancing vehicle with electronic control.
Programmable maximum speed, electronic immobilizer system.
Weight: seat and Segway i2 around (185 lbs).
*depending on the design.
Measurements (for product options)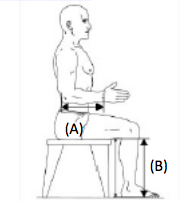 Transcription of the AddSeat Order Video (Above)
Hello, I am Andrew and I am here today at livingspinal.com to talk to you about the AddSeat from AddMovement. They are a company out of Sweden that makes awesome seated Segway kit that can go on top of the x2 or i2 segway. Let's go ahead and look at some of the options sets and different tips and tricks on how to use the vehicle and some other ways in which it might be the right segway for you. It's all about finding the right options that work for you and your body the best. So let's go ahead and I am going to share my screen let's go to livingspinal.com and here is our living spinal seated segway page. So we go ahead and scroll down and we're going to go to our AddSeat click on the AddSeats and let's go ahead and look through some of the options sets and of course you need to determine whether you're using an i2 or an x2 and whether or not you are going to purchase a Segway on your own or you're going to use a seated Segway that is pre-owned or you already have one and you want to put a seat on it.
The last thing here is going to be the way in which you want to get it installed and you can either have us ship it directly to your house, you can have us install it here and you can pick it up from us or and that's in southern California in San Diego or you can go ahead and have us install it and then ship it to you. And that's going to be the most expensive option. If we scroll down you'll see the product descriptions, some pictures, some really great videos, specifications and even some other products that are similar.
Let's go to the homepage of AddSeat by AddMovement and let's look at some of the pictures there. So this is the latest model of the unit and I really enjoy the AddSeat for many different reasons. One is it has removable front steering arm and it actually has and not many have this kind of option set where, the ones that lock in, on the market, lock down below where this one, it actually has a cable that runs up the steering arm and then up here at towards the middle kind of near the top of the steering arm you'll see there's a button right here that you pull to release and be able to remove the steering arm which is really awesome. It has an adjustable gooseneck on the steering arm. So you can get it where it's most comfortable for you. The other really unique thing about the seat is one is underneath you can purchase a kit that allows it to be elevated so you can actually have adjustable seat height. There is no other model in the industry that has adjustable seat height, the other thing that it has is it has a sliding seat pan, there are a couple of models in the industry that have it but as a user I would say that the AddSeat might be one of the most functional and best seat pans out there. The reason why I say that is it's actually spring loaded, forward to your center of gravity and it's really just used to be able to stop quicker which is what's most important and is a really awesome functionality. It comes with it's own seat, it's got a reclining back rests. So there's actually a little button you can pull right here and the backrest will fold down. It has adjustable footplate height. It also has the option of having two sets of winning gear the landing gear on the left is going to engage or disengage the unit and the landing gear on the right is just going to be extra stability so that the unit is incredibly stable when you go to get on it.
So many different ideas and thoughts were put into this unit to really make it one of the most functional units between allowing the seat height to be adjustable, to allowing the steering arm to be lockable, the backrest foldable, and the seat pants slidable. So, incredible functionality from AddMovement on the AddSeats. So this is V5.1 found on livingspinal.com.
Thank you so much for joining me today and learning more about the AddSeat from AddMovement, a Swedish company that really knows how to do this stuff.
If you have any other questions, please feel free to call living spinal at 619-810-0010 and you can talk to a live representative.
Thank you so much for joining us.
Click here for Installation Supplemental Videos
If you plan to purchase a Seated Segway product from Living Spinal, please note the important information below:
*Only available to be shipped in the USA
*Seated self-balancing mobility products are custom made, imported, and are non-refundable upon purchase. Please see our Shipping and Returns Policy page.
*The Segway Base is a separate product from the seat-kit and the seat kit will take a little installation to mount to the power base. An installation guide will be provided and Living Spinal will help instruct you if you run into any questions or problems during installation. Please call 619-810-0010 with any questions.
*Segway has discontinued the Segway product. For this reason, all Seated Self-Balancing chairs from Living Spinal are shipped with used Segway units, with low miles and certified inspections by authorized Segway dealers including testing of the battery and electrical system. Contact a Living Spinal representative for more details.
*All Seated Segway chairs have specific mounting and dismounting sequences, and are faster and more capable than other personal transportation devices. This comes with the inherent risk of falling, tipping, and crashing. Following the rules outlined in the user manual and utilizing a sense of caution when using the product will minimize this risk, but not remove it altogether. Persons with a very frail constitution or a proneness to injury should not purchase or use this product without close guidance and supervision of an able-bodied assistant. It is at the discretion of the customer as to whether they are capable of safely using this product, and purchase of the product by a customer indicates that the customer is aware of and accepts the inherent risk of using this product. Living Spinal recommends that users embody extreme caution when using this product, especially the first 50 hours of riding. Living Spinal or it's employees are not responsible for any accidents or injury experienced by customers using these products, and Living Spinal encourages all customers to understand the risk associated with owning and operating Seated Self Balancing products.
To minimize risk of a fall, please note the following safety suggestions when learning to ride.
Wear safety gear including a helmet, elbow pads, reinforced wrist guards, thick clothing, and closed-toed shoes.
Practice mounting/dismounting and actuating the unit and parking brake in a soft, grassy area
Have an able-bodied person standing very close with hands up ready to assist and support the unit if it is to tip, or if the user of the unit falls.
Inspect the unit for damages/defects before and after every ride.
All sales are final. 90 day parts & labor warranty for pre-owned Segways through the associated authorized Segway dealer and a 30 day warranty on the machine batteries. The following items are covered under the pre-owned PT 90 day warranty: Segway base, motors, CPU board, balance sensors, and gearboxes. The following items are not covered: wear and tear items: tires, wheels, infokey, aesthetic items, grips, handlebar bags, comfort mats, bent or broken accessories. A 90 day pre-owned PT warranty may be voided if: water damage occurs to the unit, excessive damage to the unit occurs, missing parts or pieces, any tampering with unit power system, excessive cold or heat damage, or damage due to user neglect. A 30 day warranty for pre-owned PT batteries may be voided if: any physical damage occurs, excessive cold or heat damage occurs, the batteries have not been properly charged. All warranty claims require proof of original purchase, matching serial numbers, and must be presented by the original purchaser. Warranties are voided if machines are sold from the buyer to another party.
Fill out our form to get a verification of benefits within 24 hours -

Insurance Verification Form .
This seated Segway is fantastic. Well made and able to handle a lot of terrain on base Segway wheel set up.
I have MS and this is a tool that allows me to get around with friends ( biking) and go places I did not have the stamina from before. The speed and durability of this chair makes it well worth the money. I am doing the sport of Dog Agility in my chair and is it so smooth and quiet and nimble !


I am 6'5", 265lbs and used to play baseball professionally. Now 53, I was diagnosed with MS in 2007, and I have slowly lost my ability to walk. First I stumbled, then used hiking sticks, then a walker. My right arm is affected as well, so as each year passed and I got a little worse, the depression and fear of how I was going to live in a wheelchair was very real.

Most scooters and chairs aren't built for a big person to use comfortably. Yes they work, but people don't see you down low, you need one hand dedicated to use the joystick, and you can forget about the beach or a hike on a trail in the woods. And for someone who was a professional athlete, scooters just added to the depression and isolation.

So I bit the bullet and shelled out the $15,000 or so to order an Addseat sight unseen, essentially by watching the YouTube videos. It took 3 months or so to arrive, insurance didn't pay a penny, and it was a prepay in full leap of faith. It arrived in several boxes from several different places and we had to assemble it (though I believe Living Spinal has an option to do it for you).

I ordered mine with 3 sets of tires....indoor, street, and off road. When you change the tires you have to adjust height of the parking legs. I made a couple templates and got the whole process down to about 4-5 minutes.

I've had my Addseat for close to a year now and I can't believe it. It was weird getting used to the movement at first and it's so important to go through a strict ritual lifting and lowering the parking legs to make sure it's balanced or off, but my god, once I started rolling around it was unbelievable.

My eyes on a scooter in a crowd were at the chest level of most people. Now I'm at the height of a person about 5'7", and can look the everage person in the eyes. I can talk to taller people without yelling.

As I got more comfortable with the movement, I tried the off road tires and riding it over bumps and rougher terrain, grass, things like that. There's not much of a back up plan if it falls and your legs don't work, so trusting it to keep you safe is challenging. And since I'm tall and heavy it's not like my wife can scoop me up and shove me in the car.

It is a total leap of faith, and each passing day I live my life on it I have slowly been coming out of the depression. I have been back to Bryce Canyon and Yosemite each twice in the past few months after 8-10 years hiatus. I went to the San Diego zoo which is nothing but hills. I take my dog for runs, hug people from it without worrying about getting knocked over, and I've added little ramps around the house to easily get in and out of doors. I go to movies, restaurants, parks, casinos, and other places again. We take our fifth wheel to the mountains and camp, go on boats (carefully), go fishing from the shore, and stop in at the rickety shake shack for a burger.

I absolutely can not believe how much of my life has come back. I won't say it's normal because that is untrue. My life is still a pain in the rear, but somehow looking out for 100 miles from a place I couldn't get to takes the edge off. Somehow rolling around the house with pinpoint precision makes going outside or helping with the dishes doable.

The beast is expensive. Get over it. It's powerful and might scare the daylights out of you. Get used to it. There is nothing, and I mean nothing, that will give you more of you life back than this thing.



The Best Seated Segway for me

I looked around for a long time. Living Spinal sent me some info on a lot of the units they have. I decided to get the AddSeat because of the rising seat. It's so smooth and comfortable. The rising seat really helps my spasms since I can adjust it.